I'm teaming up with my good friend Susanna from
Whimsy Workshop Teaching
to launch our newsletters. Susanna and I know that we want to offer our you awesome ideas that you can use in the classroom.  We are both compassionate about literacy and have so many ideas that we want to share with you.
By signing up, you get the freebies below. We will be offering more exclusive freebies in our newsletters. Who doesn't like a freebie? Each of us will also be packing our newsletters with ideas that you can take straight to the classroom.
Susanna and I are both mad about literacy and wanted to share something that reflected that.
We hope that these free downloads come in super handy.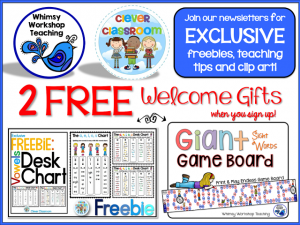 To grab the two free downloads, click below to subscribe to our monthly newsletters.
Susanna's – Whimsy Workshop Teaching and mine;
The first freebie is from Susanna at Whimsy Workshop Teaching. 
Giant Sight Words Game Board




Make a giant board game for your students to revise their sight words.
Students write down the words they land on, and review at the end of the game. This game will engage students as it is exciting and HUGE!  The game can be "never ending" because students are prompted to turn around and go back.
For even more phonics game boards like this one, for the whole year, see Susanna's "Phonics Game Boards Full Year Bundle (70 Boards) – Whimsy Workshop Teaching".
The second freebie is from Me, (Clever Classroom).
Free Vowels Desk Chart
Print out the color or black and white desk strips and place them on student desks.
Children will use them as a ready reference when spelling and writing.
A master sheet of sounds and example words has also been included (see bottom image).
These vowels desk charts and poster can be found in our "The a, e, i, o, u Posters – Sounds that Vowels Make Helpers" in my Teachers Pay Teachers store.
Here is what is in the free download.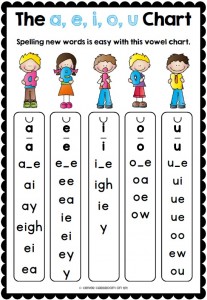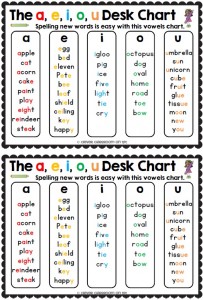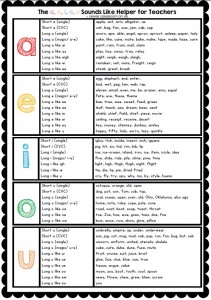 The vowel file comes in black and white too.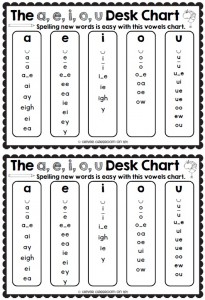 Our newsletters are full of great ideas, information for busy teachers, not to mention exclusive freebies, discounts and giveaways only offered to our subscribers. Click below to subscribe.
Thank you for dropping by.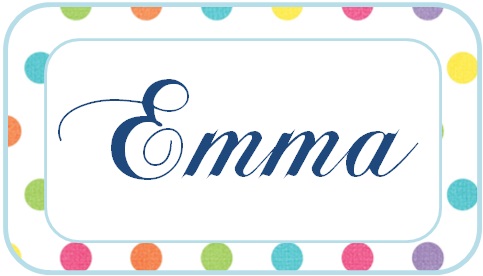 (Visited 1 times, 1 visits today)