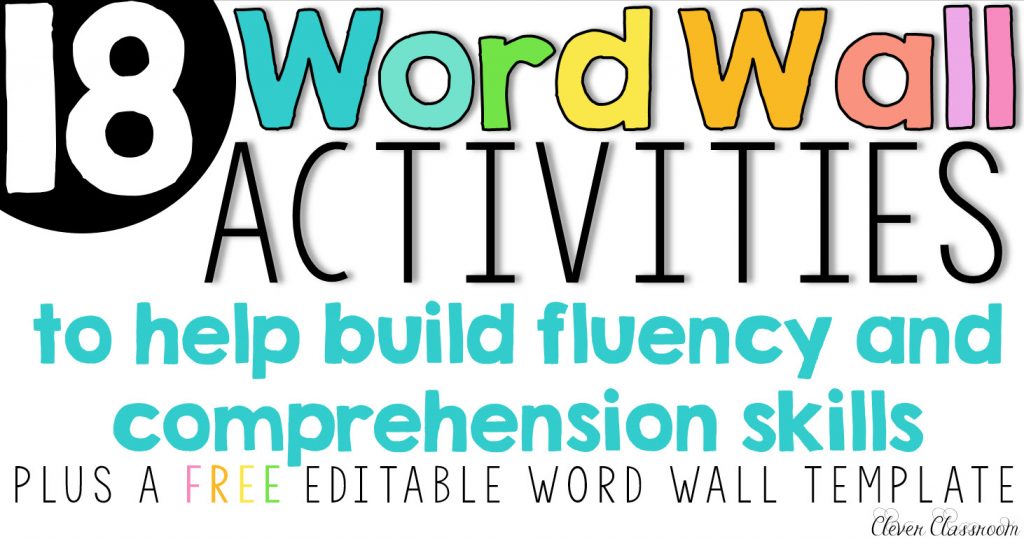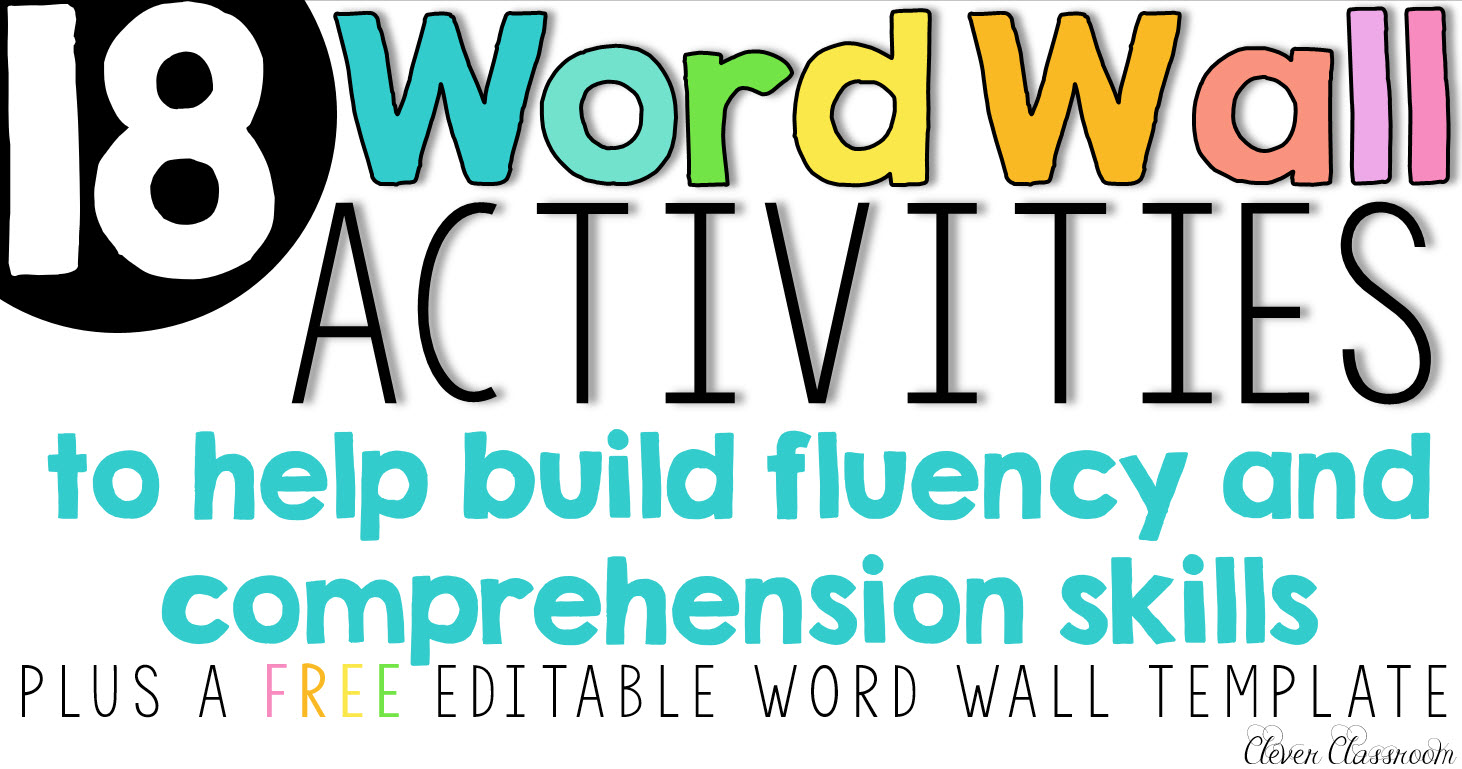 It's nice to have your word wall all set up and ready to go, because then it's all done. You can check that off your list of 1,001 things you have to do. Right?
Well don't get me wrong, I have done this year in, year out. After a few years, I began to understand that this approach wasn't working for my students. Lots of whom had learning difficulties, and were second language learners. This way was just too overwhelming and didn't promote deeper learning for my students.
What is the aim of your word wall?
I wanted my students to use the word wall to increase their vocabulary, and reading fluency skills. Many times, my students were overwhelmed with a whole wall full of words. I then discovered that introducing up to five words a week for my firsties was more meaningful, and promoted deeper learning.
One way to build fluency and comprehension
According to Chard & Pikulski, 2005, reading fluency is the ability to read orally with speed and efficiency, including word recognition, decoding, and comprehension. More over, able readers achieve fluency as they recognize words with speed and build upon them to aid in comprehension (Pumfrey & Elliott, 1990). Therefore, the aim of a word wall in part is to promote the development of both fluency and comprehension.
This is more achievable with a growing word wall, that can be built upon gradually and accompanied with games and activities (stay with me, 18 ideas are coming) to promote comprehension, and retention.
Spelling skills
An essential part of fluency and comprehension is phonics. Another aim (which lends itself to the first aim above) for your word wall should be to help students see spelling patterns in words to aid their phonics and spelling skills. Thus assisting their fluency and comprehension skills.
Is it enough to use your word wall as a ready reference?
Graves (2007) suggests that vocabulary instruction is most effective when it is rich, deep, and extended. How do you ensure that your vocabulary instruction supports this higher level of learning? Give students lots of opportunities to interact with words, for example focus on meaning with contextual references to texts, and real-life.
Word walls should be accessed daily, and students should use the word wall autonomously as one strategy to build fluency and comprehension.
Make the learning of your vocabulary rich, deep, and extended with word wall games and activities
Let children know that they can contribute to the word wall. Make your word wall student-centered and generated where possible. Allow students to create their own word wall cards in clear, and bold print. Or, have a place where they can record words that they would like published (by the teacher). You could set this up with a clip board and pencil in your writing area. The free word wall template would be perfect for this.
Here are 18 ideas to promote rich, deep, and extended vocabulary via your word wall
1 Read words in different voices (see our Interactive Reading Sticks for any Word List )
2. Chant words to different tunes.
3. Clap out syllables in words.
4. Trace words on the floor, in the air, or on a partner's back.
5. Attach a physical activity to learning words e.g. place words on an obstacle course outdoors, or make a line of words inside for children to act out an action three times for each word. I do this with editable Word Spots.
6. Play guessing games like, 'I Spy' for example, I spy a word that has double l, I spy a word that has a long e sound with the 'ea' combination, I spy a word that has one syllable.
7. Separate words under headings like nouns, adjectives, or verbs and pronouns.
8. Go on a word hunt to find given words from the word wall.
9. Challenge children to draw words from their word wall.
10. Create a list (orally or written) of words that rhyme with a given word from the word wall.
11. Invite children to write x amount of words from the word wall, then read them as quickly and as accurately as they can to a partner. repeat three times each to improve personal times.
12. Challenge children to use x amount of words in an oral or written sentence.
13. Which words can be defined? How can we discover their meanings? Prompt, or model using a dictionary, or an online source such as wordcentral.com
14. As a class, organize the word wall in alphabetical order. You could give groups a few words from the word wall to type into this site; The Alphabetizer, then compile an alphabetized word list.
15. Locate words that children use orally in daily conversations, presentations etc on your word wall.
16. During your shared, and guided reading sessions, locate words from texts on the word wall. Then read them three times together.
17. Construct (teacher) an oral sentence with just one word from the word wall, students must guess which word you used by repeating the sentence in their heads, and spying the one word on the word wall.
18. Students can perform written activities to work on their words with these printables for any word list. Or, they could work on these common word wall activities such as: rainbow write, circle vowels or consonants in words, underline the spelling pattern(s) you are focusing on like magic e, digraphs, blends etc, unscramble words, write rhyming words, or play games on spellingcity.com.

Join the word work newsletter
Subscribe to get word work ideas. Plus download your FREE Vowel chart now.
Download this free word wall template that you can print and laminate, then write your own words. Or, easily edit the cards on your computer as you need them. This file will come in handy with student generated words (as mentioned above), personal lists, spelling words, text vocabulary, seasonal vocabulary, or if you mix different word lists together.
To help your students work on their fluency, comprehension, and phonics skills, You can download ready to go word walls, posters, and vocabulary cards that I have created as downloads in my Clever Classroom store on Teachers Pay Teachers. These will save you loads of time creating them yourself. Who doesn't love more time? See them all here. Or, you might like these word walls, or posters to slowly introduce new vocabulary with your students.
Phonics Posters and Cards BUNDLE
Fry Word Wall
Dolch Word Wall
Alphabet Charts
I hope the above 18 ideas, will help you to promote both fluency and comprehension via your word wall this year.
If you have any questions, or comments, please let me know in the comments below.
Happy word work!
(Visited 1 times, 1 visits today)