Summer brings us lovely warm weather, melted ice cream, beach time, and relaxation. Your students will enjoying writing about their summer adventures and having a helpful vocabulary chart is a must.
This free download is all yours, and includes 52 vocabulary words on two charts, plus 2 follow-up word work record pages.
You might already know that I love all things word work. I love implementing hands-on and engaging ideas, plus I thoroughly enjoy creating helpful resources. I know many of my blog followers are also word work nuts, so I started up a Facebook group to support teachers and their students. Come on over and join thousands of teachers from all around the world who have great word work ideas. Click the image below to join.

Continue summer learning with your children at home. Or use these in the classroom at the beginning of the school year.
How can I use the Summer Vocabulary Charts?
12 Ways to use the Summer Vocabulary Charts
Summer journal writing – display on a wall, or in a manila folder, as a ready writing reference.
Story writing prompts – ask children to use as many words as they can, or simply use the charts as a writing inspiration.
Sorting – sort words according to different criteria for example; nouns, verbs, adjectives – indoor vs outdoor – long vowels and not long vowels, syllables 1, 2, or 3.
Write a sentence – invite children to write a sentence for x amount of words.
Morphology – can any of the words change by adding or taking away prefixes, suffixes, word endings, plurals etc for example; sun to sunny, sunshine, sunned
Writing center – add magnetic letters, word tiles, stamps or even Bananagrams for children to form words. Add paper for students to record the words they made.
I Spy – Invite students to play "I Spy" with just the vocabulary pages.
Make a word – Ask students to find the longest word, then invite them to use those letters to write as many words as they can. How many words can they write?
Magazine make it – Use old magazines to make given words in the vocabulary charts. Children cut out individual letters to make summer words.
Water writing – Use an old paint brush (thin or thick) and a bucket of water to write summer words. Children can try to write summer words on different surfaces on a hot summer day. How long will they last?
Ice writing – Freeze water and a drop of food coloring, with a cue stick (cotton bud). Remove from freezer and give students large paper to write words from their vocabulary chart.
Word hunt – Use a magnifying glass or special glasses to hunt for summer vocabulary words in books from your book corner/shelf/classroom library. Record the words when you find them.
You might also find this summer reading download perfect to prevent the summer slide. It is full of FUN, HANDS-ON vocabulary ideas to help children work on word skills within the home. It is a great hand-out for parents at the end of the school year, and also a great tool for parents to use over the summer. It includes 52 NO FUSS reading activities.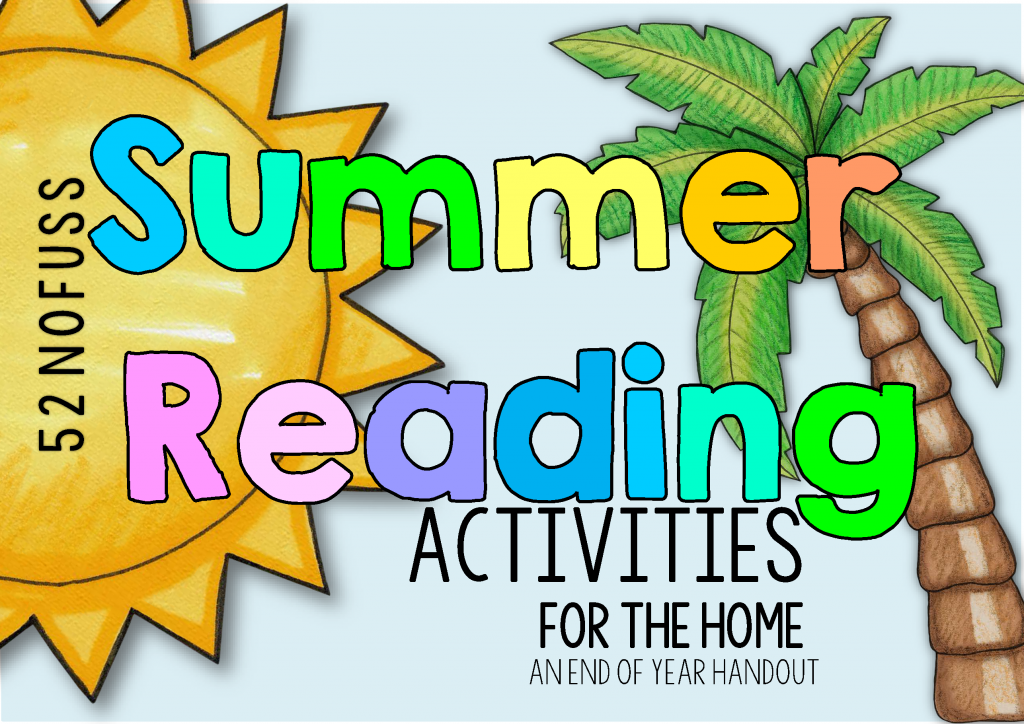 If you would like to get notifications of our new freebies, items on sale, and downloads listed at 50% off, for the first 48 hours, Clever Classroom can email you so that you can grab them as soon as they are listed, or go on sale. What a great way to save, and get word work resources for your students!  Read more.
Click on the image below to download your FREE summer vocabulary charts.
I hope this freebie helps your children this summer.
Thanks so much for dropping by.
(Visited 1 times, 1 visits today)