I don't know about you, but I'm always looking for new sites for read-alouds.
I know that children need to be read to by a variety of sources.
This develops:
comprehension
fluency
expression
vocabulary
receptive language skills
book to world connections
reading interest and motivation
love of reading
Other Read-Aloud Sources
I always try to purchase my fave read alouds with the audio book included.
The library is also a great source for audio books.
Why not ask your support staff to read to your students.
Parent volunteers often have loads of experience reading to their own children, they are a great resource.
Invite parents who don't volunteer on a regular basis to read each afternoon for a week.
Buddy up with an older grade and invite them to come read to small groups, or individuals.
All of these experiences will add interest and also increase student engagement and the wonder of reading.
Join the word work newsletter
Subscribe to get word work ideas. Plus download your FREE Vowel Chart now.
Online Read-Aloud Sources
Click here to download the free list of online read-aloud sites handout for parents.
You can always search YouTube for the specific book you're after, there are some great read-alouds of classic and popular books to find.
You might even make up playlists of your students'fave books, or books you wish to focus on this year.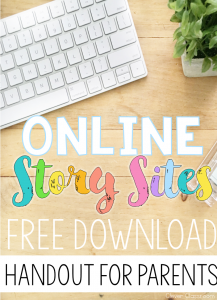 Thanks for visiting Clever Classroom's blog.
Happy word work!
You might also like our posts:
(Visited 1 times, 1 visits today)